I love backpacker districts. They do have a tendency to get tedious pretty quickly, and they are about as culturally relevant as going down the pub at home on a Friday night (Except the band sing in a funny accent), but they're always good for a party, and usually the kind of wild party you could only afford a couple of times a year back home. For all the hype of Khao San Road and the dirty mayhem of Delhi's Main Bazaar, Thamel is definitely the best I've come across.
It's a manic few blocks of excessive neon advertising for cheap laundry, westernized restaurants selling surprisingly good pepper steaks and Arabian floor-seated dishes, and more pubs than you could ever visit if you took up residence for a year. When you throw in an Ashes test match and a guesthouse where it's as easy to meet people as take an unwanted cold shower, and you have yourself a difficult place to leave, and a recipe for a few good nights out.
The first night I got there, though, I slept. My legs felt only a shade better than completely numb, and it was time for the cricket to start by the time I dragged myself out of my room to slurp some water and visit the German bakery. Sitting in front of cricket was a great way to meet people, and an hour later I'd found myself a bunch of English lads and an electro party to spend the evening at. Heavy, unrecognizable beats, pouring rain on a tin rooftop and a lot of 'subtly' mixed whiskey in front of an abysmal England performance made for a damn good night.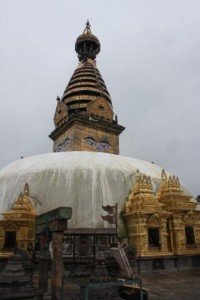 Two more similar nights followed: deep voiced reggae bands covering Coldplay and Pink Floyd in amongst piles of cushions in lieu of bar seats; cocktails like 'Yeti's Smiles' that consist of nothing but two top shelf spirits thrown together in an oversized shot glass; local clubs with dance floors that empty at the first sign of a westerner before slowly filling again with dancers who flit around the edges of the floor with tentative curiosity that probably has something to do with the kind of overenthusiastic dancing Kathmandu can't be too used to.
There was a trip to the supermarket to search for ludicrous shirts and cheap shoes to brighten up a night out with, and the night that England's final pairing held on to draw with the Aussies, prompting a louder cheer from the back of the room than the (impressive) band got all night.
I did manage to drag my tired legs away from Thamel for one afternoon, and visited the monkey temple, which is at the top of a small hill that is just a fraction too big after 7 days trekking. It's a big white stupa with a golden peak, surrounded by prayer flags and a large selection of shops that do their best to destroy the peaceful atmosphere. You can see half of Kathmandu from the top, with a foreground of overweight monkeys sliding down banisters in a race to get to the nearest piece of unrecognizable fruit.
For the last couple of days, having had my flight problems (see last entry!), I just hung out in a cheap hostel and watched DVDs. I didn't really feel like going back to the party, or withdrawing more from my extra flight depleted bank account to fund it. But Thamel was fantastic, like Khao San Road without the dark side, and with hidden corners where you can hide from the mayhem for just long enough to want to be in the thick of it again.
A great end to an emotional trip, back to Ireland I go…
J x