So that was just a little but busy, but if you're going to come all this way, make the most of it, right? Being still on Irish time, we woke up at before 7am gagging for a bagel. Or at least I did. Something about New York makes me want to eat bagels for almost every meal (I actually did eat them for two meals today), and standing on top of the rocky outcrops at the south end of Central Park with a bagel in one hand ('with a smear' – cream cheese) and a Starbucks coffee in the other feels like a proper introduction to the New York lifestyle. Or at least its stereotypes
I knew Central Park was huge, incidentally, but I had no idea just how huge. We walked from the southern end of the John Lennon Memorial – nothing more than a two metre circumference piece of ground with 'Imagine' written in black and white, opposite the Dakota Building (where he was shot) – and while that's hardly a trek, it's not a short distance, either, and the park stretches for perhaps four times that length, right up the heart of the city.
As a little extra to Helena's main birthday present (the trip out here), I got us both Citypasses, which give us access to a whole host of attractions around the city. One of those is the American Natural History Museum, which makes London's Science Museum look like a regional triviality (and I don't mean that to be belittling to the Science Museum, either – I love the place). We got in to two of the special exhibitions. The first is a butterfly exhibition; a small, humid room with thousands of very affectionate butterflies from all over the world inside it. The butterflies only live for three weeks (the same in the wild, apparently), and seem to spend a lot of their lives perched on various shoulders/ heads/ backs/ bags/ anything else they can find, so there's a sign on the way out warning against hitchhiking butterflies. They're shipped in chrysalis form, and once a day a new batch of butterflies are released into the room to suck on oranges and sugar water, or land on school children's heads.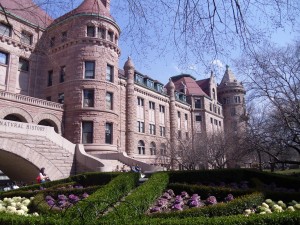 The other special exhibition is a huge planetarium (there are at least three more exhibitions as options, we decided not to take the whole day), which has an extremely cheesy but nevertheless interesting take on the formation of the galaxy, earth, stars and all sorts, narrated by Whoopi Goldberg in a suitably hyperactive style. Elsewhere there are huge dinosaur skeletons, ancient mammals, Native American totem poles, a life size model blue whale hanging from the roof of just one of the monstrous exhibition rooms, seemingly endless gift shops and views of central park. I doubt we saw more than 10% of the entire thing, and that took the best part of three very entertaining hours. But then I always was a bit of a science geek at heart. Just a bit.
Next up was SoHo, as Helena has her eye on a bit of shopping. The place is a strange contrast of being extremely expensive and still managing to seem a little offbeat and rundown, with ramshackle buildings, graffiti and lots of open-plan, minimalist art spaces filled with pop art and rustic presentation of things like wave-battered old bottles. It's just off one of the busier bits of Broadway, and the buildings are covered in fire escapes (I have a strange love affair with how fire escape stairs make buildings look at this point). Very arty, very expensive and full of very pushy camp gentlemen in sales. Americans – or at least those tasked with shifting stock – seem to be fans of the hard sell; for me it's a reason not to buy something.
I'm not a fan of shopping generally, but it's pretty difficult not to get sucked in to some of the shops over here just through the effort they go to in making things interesting. We found an incredible oriental place that sold anything from plastic take-out containers for taking noodles to work, to Vietnamese umbrellas, decorative vases, little Buddha statues and quirky crockery. The Converse brand store has an entire wall made out of boots in the colours of the American flag, and almost every shop we went in seemed to have something you just couldn't find in Dublin, whether it was a wacky display or a product I'd never come across before. There's still only so much I can take, but at least the commercial side of things seemed to go out of its way to entertain.
Next up was China Town, which was really like stepping back into Asia. It's ramshackle, again pretty run down (a far cry from the glimmering commercial side of Broadway), and with incredible food. We tracked down a vegetarian-only Chinese place, and had shark fin dumplings. As everything's made from fake meat/ fish, the 'shark fin' had never been anywhere near a shark (I wouldn't eat the real thing), but followed by fake beef and fake pork dishes, it made for a pretty special meal. I'm not a fan of the vegetarian option when there's another, generally, but this was as good an approximation of meat as I've had in a while, all served in a fairly straight forward looking place that could have gotten away with claiming to be meat if it had tried, at least with everything other than its slightly tofu-ish pork.
To close the day up, we took in the one part of this trip – flights aside – that we knew would be a chore, but also felt was necessary. The World Trade Centre's former sight is fairly inaccessible, but there's something harrowing about the empty space, especially when it's so clearly loaded with meaning. Aside from the (closed – it was evening) memorial centres, the only references to the tragedy were attached to the edge of the horribly nearby fire brigade building; memorials to the 343 firemen who died. Even eleven years later, there was a burnt out candle and several memorial photographs freshly placed under the huge plaque.
There's nothing to actually see, aside from those memorials, a big gap in the skyline and some work fencing, but the atmosphere still seems, somehow, thick. It's probably all in the head, but every mark on the pavement, no doubt nothing more than a normal bit of damage, seems laden with added meaning, and any construction a pause for thought. While there clearly has to be something put into the place, especially given the density of Manhattan generally, I think I'd find the recent history just a little too disturbing to ever work there myself.
We're starting to feel like we'll never fit as much as we'd like into this trip. There's just so much to try and cover, and something else 'unmissable' seem to crop up every time we glance in the guidebook. Tomorrow, no doubt, will be just as packed. Reading that back, I can hardly believe it was only a day.
J x