I stopped briefly in Hildesheim the other night, for no real purpose other than I knew there was a good party going down. That's as good a reason as any, as far as I'm concerned, but a break in my days teaching on Wednesday was a good chance to see the place for real.
It's a great little town. The market square is no bigger than a handful of tennis courts, and is surrounded entirely by towering wood-framed buildings that get wider with height. The detail on the wood is immaculate, and shows all kinds of crests and symbols. Most of the historic part of Hildesheim was destroyed during the Second World War, but the rebuild is a real no expense spared' job, and apart from a total lack of aging, could easily be the originals. Being a German town, there is also a Christmas market, which is tiny compared to Hannover's city-filling effort, but still very atmospheric.
Apart from the square, Hildesheim is most famous for its churches, the best of which is called the 'dome' (or words in German to that effect!). It's rustic courtyard is filled with the well kept graves of the previous bishops, and also contains a rosehip plant that is apparently one thousand years old (is there really somebody who keeps a record of these things, or is there a way of telling the age of a plant other than a tree? Answers on a postcard please… ).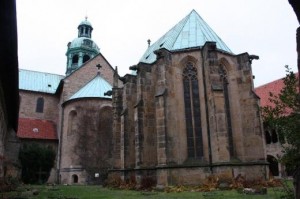 The inside of the church has huge circular 'eyes of God' – which are covered in crosses and candles – mounted over the alter. There is a huge metal door that only opens for newly appointed bishops (very reminiscent of St Pauls at the Vatican) and a huge number of spooky adornments. German churches are beautifully in a different way to English ones – a kind of gothic feel, with a whole load of casted figurines that give a slightly haunting feeling. There are a lot of little nooks that contains backlit golden swords, abstract painted maps of the local areas circa 800 years ago and what look suspiciously like prison cells. High above it all a huge organ looks down on the alter, adding to the imposing atmosphere. The dome is also largely reconstructed, but someone must have had some perfect design plans, as a modern architect just couldn't have come up with this stuff.
Hildesheim's local legend revolves around a statue in the middle of town, which depicts a faceless hooded man hanging from the back of a struggling guy. The hooded man is traditionally thought to leap on the back of anyone who tries to steal anything from the town; the guilty party in this case was attempting to make off with a single apple.
For a small place, Hildesheim certainly has a lot of character. They make surprisingly good all you can eat Chinese, too.
Friday night was the office leaving party, which I managed to attend all of a couple of hours of before heading of on my epic trans-continental journey (or trip to Ireland, the long way round – see entry to follow!). A couple of hours is more than enough time to neck a pitcher of beer with a group of Hannover lads and sample the local ridiculously oversized sausage. The 50cm long Hannover Bratwurst hangs so far out of the size of the pathetically proportioned 20cm baguette it comes in that it practically needs scaffolding to keep it one piece. Quite a mission to get the thing down; a good ten minutes work. Perfect fuel for the epic journey ahead!
J x