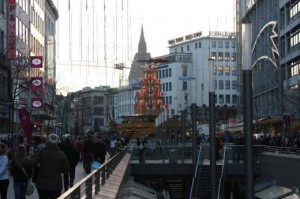 By the time I left Hannover my overwhelming feeling was tiredness. Combining a quantity of teaching far above anything I have done since leaving Seoul with a series of very late nights (five near all nighters in the last eight days, due to travel, parties and football) have taken its toll. I'm very glad it's Christmas, and I have a few days to relax.
I got a great send off from my host family, who insisted on dropping me down to a nearby station rather than walking with a bag full of Christmas presents. I cooked them a meal on Thursday, though when I did it I was almost too tired to make conversation. It came out okay, which surprised me in the circumstances. I doubt I'll be going back to Hannover soon, but I really hope I can see them again sometime; they made my very welcome.
Those who follow my blog will know that I can't leave a country without giving some random general thoughts on what I made of it. Here goes!
Recycling – It's made so easy in Germany. Make a law that makes recycling a requirement, fine heavily for anyone who doesn't do it and make a split bin system that makes it easy to do. Result: everyone recycles. I wouldn't always do it back home. I know I should, but when it's made so difficult, time is precious…
Trains – Win the seemingly impossible award of being as expensive as the UK. Congratulations Germany! Having said that, they always seem to be on time (or five minutes late: the locals start eyeing there watches curiously after more than two, and will invariably claim their trains are always late. They should try England… ). They do run all night, however, which more than makes up for it in my book. And they're comfortable enough to sleep in and don't try to sell you something extra on top of your rip off ticket every half an hour.
Christmas – Not a commercial event, but a family celebration. Christmas came across as really special in Germany. It's a real happy family festival, not a ridiculous spending spree (tell me Christmas is about Christianity all you like, it's clearly not anymore, nor would I want it to be personally). Long may it stay that way.
Bakeries – German bakeries are wonderful and affordable. I could eat every meal in them. In fact I'm not sure I was far short of eating every meal in them.
Attitude to Work – Quality over appearance. I'm not a better teacher when I'm dressed in a shirt and tie. The Germans seem to realise that. Respect.
And not so much a comment on Germany, but had to be said:
Ryanair – their airport naming policy is ridiculous. In the last few days I have flown in to 'Dusseldorf' Weeze (which is nearer to Holland than Dusseldorf), and 'Frankfurt' Hahn (nearer to Luxembourg than Frankfurt. Ryanair are great for what they do, but you really have to be careful what you're getting. These airports are both nearly two hours drive from the destination you supposedly fly to. I'm going to be much more wary next time. Another thing that grates is their constant insistence that they're the most on time airline in Europe, which anyone who flies more than once a year can easily see is purely because they set their flight times at much longer than any other airline for the same distance. It might be on time, but that's only because you've allowed half an hour extra to get there… you hardly ever leave on time! Ryanair is a strange, strange animal. They annoy me to the point that I'm contemplating paying a bit more for Aer Lingus next time.
Things are a little quiet on the work front, so after Christmas I'll be relaxing in Dublin and working on my writing until the middle of January. I'll try and remember to stick published stuff up on here. Christmas is here!
Have a good one,
James x