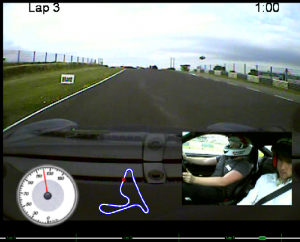 At the risk of coming across a bit boring (hey, you've been here before, right?!), I'm not a person who's hugely into cars. I mean I can see the appeal, sure, but at the end of the day we have a speed limit of 120kph in Ireland, and whether I do that in a clapped out Fiat Punto or a supercar seems pretty irrelevant, the result is the same. perhaps more accurately, I don't value the difference at  what it'd cost. That doesn't stop me from wanting to skid round a race course given the chance.
A present from my ever-awesome wife, the Mondello Park driving experience, was just such a chance, and certainly one of the best ways I've ever spent a Monday afternoon. I must admit my high-speed driving experience – if you can call it that – consists entirely of driving round all the major circuits of the world at a reckless speed and utter without fear… on a Playstation. The 'warm up' experience at Mondello Park is a Mazda M3, a normally fairly tame road car with a heavily altered engine and a set of roll bars that imply that 105 horsepower is every bit enough to sent the thing flying into a large heap of tyres. I'm a fairly conservative driver by nature, but the racing driver sat next to me did manage to get me to swerve around a bit, follow some racing lines and generally throw the thing around.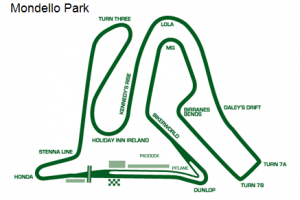 Then I got to go in the Porsche. The 911 is a heavy beast, and even turning the key in the ignition leads to a roar from the engine that's enough to intimidate. Driving the thing is a really physical experience on a circuit, all about wrenching your way round corners, and hammering down the pedals/ brakes to try and get the quickest lap time out of it.  Mondello Park is a fairly short as circuits go, and even the main straight means speeds of about 160kph and not higher in the 911. Oddly, that's not even fifth gear, and the entire circuit is best driven between third and fourth, which means it can feel quite a lot like driving a semi-automatic, thankfully minus the paddle gears.
It's fair to say I'm not cut out to be a racing drive. I got a DVD of the whole experience and it looks depressingly slow (it didn't feel it), and kind of makes me want to go again. I'm a little glad it's set up to be difficult to rip to a computer, so you'll have to make do with a few pics. I think if I go again I'll have to go for the single seater…
James