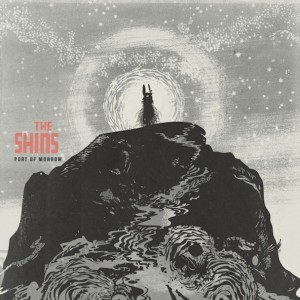 Having effectively dismissed the musicians that helped put together 2007 opus and US number two album 'Wincing The Night Away', The Shins first album in over half a decade sees cult front man James Mercer make a long-awaited return from the quirky pastures of his Broken Bells project. The Shins reconstruction – despite talk of 'firing', Mercer has steadily maintained that the 'band' has always been a vehicle for his own work – has involved plenty of fan trepidation, yet 'Port Of Morrow' seems to confirm that The Shins are still very much where his heart lies.
Like The Shin's previous efforts, this is a pensive, sentimental outing. It's lyrically creative, riddled with double meanings and slowly-decipherable ideas, and crammed with emotional depth. Taking a relatively poppy direction, it arguably has more in common with critics favourite 'Chutes Too Narrow' than the band's last outing. Mercer's always seemed to have an eye for a subtly infectious melody, and while he continues to wear his old-school indie influences on his sleeve (Bowie seems a core one, particular in tracks like the aptly named 'Fall Of '82', and title track 'Port Of Morrow'), it's the flippantly brilliant turn of phrase that helps The Shins stand out above a crowded market.
Few lyricists are capable of putting together the kind of poetic phraseology that come across almost as strong when read as on record, yet at times 'Port Of Morrow' edges into that territory. 'Simple Song', for example, is a deceptively named slow-build epic that's part euphoric life story, part love song, and an entirely exceptional piece of lovable indie-pop. It's colourful, unpredictable, and seems to shove a different personally-applicable witticism in the face for at least the first half dozen listens. 'It's Only Life', equally, is intensely life affirming, a track about things going spectacularly wrong yet coming out of the other end – somehow – better. That, perhaps, is a great euphemism for the album as a whole: the undertones are often dark, yet there's still a weighty prevailing sunny disposition. It certainly doesn't come from the lyrics.
While things are musically strong, then, but for those with a love of lyrics, they'll stand out comfortably as the most exceptional aspect. Against a generally upbeat backdrop, there's a hint of serious self-loathing, an edge of the kind that suggests both uncertainty and a questioning approach to a career that had seemed to be faltering, if only slightly. Fortunately for Mercer, any suggestion that he might have made one gigantic hash of his greatest asset is blown out of the water in the first three tracks alone. The accessibility takes a very slight dive from then on (not altogether a bad thing), but the depth doesn't, making 'Port Of Morrow' not only a decent comeback, but arguably as good as anything that Mercer's produced yet. If you were harbouring doubts, this will toss them happily aside.
As published on State.ie, March 2012.