Ireland is falling to pieces, and its oldest punk rockers are clearly angry. Paranoid Visions date back to the very early 80s, a time when their gigs had to be self-policed through kick boxing classes, and a riot kicking off mid show was a 'when' rather than an 'if'. Punks become a socially acceptable cultural cornerstone since then. Deko can walk down the street without passers-by looking down their noses, and the latest version of Paranoid Visions can book venues without the assumption they'll be trashed. If tonight's anything to go by, though, the latest quirk in Dublin's long history has only exacerbated their anger.
As a front man, Deko is an absolute monster. Clad in trench coat and gentleman's black hat, he struts and snarls his way through a set that leans on the newer end of the back catalogue, with tracks like 'Braindance', 'Wearside Jack' and the feverishly relevant 'High Cost Of Living' exuding fury. The Dubs take a cue or two from punk legends Crass, and the dual backing-vocal attack from Aoife Destruction and Sarah Bellum lacks the sheer savagery of Deko's abrasive stage-front stand, but adds a welcome word play and some gorgeous shouty harmonies. Paranoid Visions could scarcely be more relevant now, and they carry the punk baton in a way that's as memorable symbolically as it is lairy. The melodic edges and sharp, slamming chords keep things fairly accessible, and Deko – well, we had him pegged as a hero before, if only for the cutting spiel of his lyrics. Throw in stage presence like that and he becomes a true hero. Even thirty years into their career, we can't help feeling Paranoid Visions are yet to garner the acclaim they truly deserve.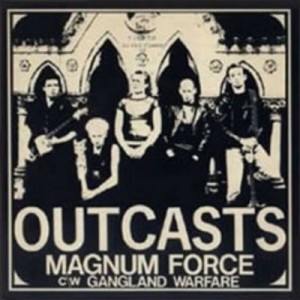 Belfast punk legends The Outcasts, a band Paranoid Visions very much revere, seem to have mellowed with age. Having grown up with the same socially unacceptable status up north, accentuated still more by the troubles, they've played only a spattering of shows since their split in 1985. The new incarnation, in truth, lacks the bite of their recorded material, or the riotous, overbearing stage presence that Paranoid Visions have made their own. To be fair to them, perhaps the comparably tame impression is one that's due in part to the obvious comparison with the band that immediately preceded them.
Still, with a tight, three-chord melee in the finest traditions of embittered political punk still packs a surprising amount of nuance; you don't wrangle your way into the affections of the late, great John Peel for nothing. There's a real fun-loving atmosphere to what's now a four-piece, with the likes of career high-point 'Magnum Force' offering a glance at the attitude-laden performances that were no doubt once the standard. It's not that The Outcasts are average musically (for a punk band, in fact, they're arguably too tight – they could use that ragged edge), it's simply that their stage presence is lacking the energy that usually propels a punk show forward.
All in all, though, these two bands say more about the current state of the nation – and represent it better – than most of their contemporaries banded together. Does music have to be heavily political, cynical, and – let's not kid ourselves – angry? Of course not, but with surprisingly little in the modern music scene directed at our floundering political "elite" (cough), bands with the potency of Paranoid Visions deserve a whole lot more of our time.