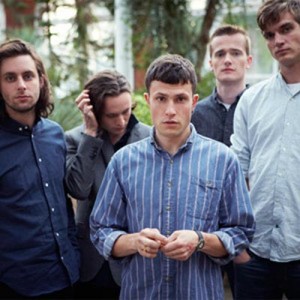 We Cut Corners take a chunk of their inspiration from tonight's headliners. The falsetto and drum/guitar-touting Dublin duo offering jarring, angst-ridden rock blended with a mellower aside in quirky lyrical storytelling, which has already won them a nomination for Ireland's premier music prize, Choice. Live, astounding vocal delivery and a blend of ballads and rock anthems are We Cut Corners' greatest assets; their ability to draw in a sizeable chunk of the venue's capacity despite their early slot an indication of their ever-expanding reputation.
The Maccabees' cult-tinged status has sometimes seemed not to extend quite as far as Irish shores, but tonight the message seems to have finally seeped through. The set-up is simplicity itself: an entirely gimmick free arrangement that eschews even the most cursory of stage adornments or banter, in favour of letting the tunes speak for themselves. Tonight's set is impressively similar to the band's recorded sound, and while some might suggest the tight resemblance is a weakness, the use of volume and nuanced rhythmic backdrops lifts things significantly. Around four songs in, The Academy's floor becomes one huge mosh-pit, a situation that doesn't fade until all that's left is a ringing in the ears. In a surprisingly quick-fire fifteen track set, early numbers like 'X-Ray' and 'Precious Time' offer the more brazenly obvious moments, while 'Love You Better' is as subtly boisterous and catchy as ever. It's newer efforts like 'Unknow', 'Pelican' and 'Glimmer' – each slotted seamlessly into the set – that provide the highlights, though, particularly when Orlando Weeks kicks in to his superlative array of live vocal manipulation.
Three albums in, The Maccabees' status as critics' favourites is now well-established. With the added depth of their most recent material comes a seemingly enhanced talent for delivering poetic hooks more infectious than the most irritating of head-swirling radio hits. And live too, Weeks and his accompanying trio of axe-armed brothers are on the form of their career – proved definitively by this blistering performance.