Raucous punk monsters The Blackout are Welsh, and Ireland have just lost to the Dragons at the Aviva, right as the Relentless Energy Tour's second night in Dublin kicks off. For all but the final two minutes of their set, the seven-piece seem to be being gracious in victory. With dual vocals, a penchant for bouncing manically and plenty of infectious hooks, The Blackout walk the line between a genuine punk band (growling, snarling and laden with attitude) and the more accessible pop-punk spin off. Their tunes vary from melodic and punchy through to outright riotous, and the stage-show is tailored to match, too. Between front men Sean and Gavin, they spend very little time on the floor.
There's a cover of absent co-headliners Sum 41 early on, before a slow-building set makes way for a manic, top-heavy finish featuring career highs like 'Children Of The Night' and 'I Don't Care'; rousing, inarguably, just a little lacking in depth. The closing 15 minutes or so really send the Academy into a sweaty, moshing frenzy. At some point, though, The Blackout have clearly taken lessons from pop-punk's established staples. The stage moves take their cues straight from Green Day's well-established set up, especially when they have time to stop and think. It's mad, but a slightly contrived form of madness, one that we suspect might feature night after night.
There is one moment when things certainly come from the heart, but it's not a popular one. The group can't resist a last stand, and as the lights falls, a fan launches a rugby ball from the crowd and front man Sean holds it aloft as the Welsh national anthem rings out over the tannoy. They've made their statement, perhaps the most punk-rebellion moment of the entire night, and depart to much sarcastic booing, an amusing close given their attempt to induce more sarcastic boos earlier in the set had fallen so flat. It's slightly embittered, insanely angsty and at the end, pointedly grating, but The Blackout still know how to shake the rafters. Even with the forgettable lyrical themes, the hooks are hard to argue with, especially when they've learnt 'Horse Outside' for the occasion.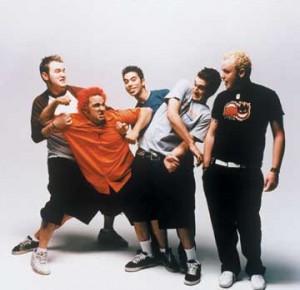 Unlike The Blackout, New Found Glory have been around long enough to have been on the Warped Tour when most of tonight's crowd still thought of dolls as a good source of entertainment; a true credit to their longevity. There's a refreshing lack of pretention about the Americans: the set features unashamed covers of Green Day and The Ramones, and even a punked-up rendition of Sixpence None The Richer's 'Kiss Me'. The latter comes across oddly furious, more a demand to be kissed than a gentle request. It's NFG's own stuff, particularly from the opening two albums, that really stands out, though few bands could pull off largely straight-up covers quite this brazenly and remain fiercely entertaining.
'Understatement', 'My Friends Over You', 'Better Off Dead' and 'Dressed To Kill' – the old classics – still ring loudest: songs about girls written with one eye on the party. They've aged well: as scatter-brained, pointedly misguided and brilliantly blow-off focused as ever. Front man Jordan – who dons the Irish flag thrown from the audience like a cape and eggs things on incessantly – is something of a man-child, but it's endearing, especially when the tenderness creeps into lyrics that are largely coated with anxiety. New Found Glory are rough round the edges, and their song writing is more than a touch one dimensional, but live they thump through hits at a rate of knots (the set list is nearly twenty tracks deep). Jordan pauses only to inject another dose of silliness into a loved-up crowd, or catch his breath for a second or two while Chad takes over the speeches. New Found Glory are never going to change the world, but there's something intimate about them, a simplicity that throws one-dimensional pop-punk out the window in favour of just plain old fun. Why worry about changing the world when you can enjoy so much as it is?