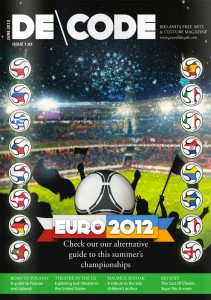 Volune 1, Issue 3 (June 2012): With the Euro 2012 football championship just around the corner, De\Code took on a look inspired by the Panini Stick albums of our youth,with a cover feature on Ireland's two venues, Poznan and Gdansk. Sadly, things were all over for Ireland well before the July issue appeared over the horizon. Nevertheless, our careful balance of music, theatre, travel, opinion and great things to do across Ireland should still reveal plenty of interest:
Cover story:
The Road To Poland – Travel in Ireland's Euro2012 venues – by James Hendicott
Features:
The Art Of Print: Ireland's stunning home-printing industry – by Claire Dalton
Art Of Craft: A Quilted History – by Elaine Kirwan
Guitar Heroes: Riffstation's computerized guitar program – by Steve O'Rourke
Midsummer Madness – Cork's Midsummer Festival – by Eoghan O'Sullivan
Onstage Connections – Irish theatre in the US – by Kevin Donnellan
Where The Wild Things Rest – the death of Maurice Sendak – by Elaine Kirwan
News/ Events/ Opinion:
Eleveight – up and coming events, featuring Dublin City of Science, Taste Of Dublin, The Street Performance World Championship and United Islands Festival.
In Love With Music – Indie Week Ireland by Amanda Langton.
Swapping Out The Sweets – Ken McGuire drops a lifetime of habits for his 30th.
Irish album reviews: The Cast Of Cheers (feature), Duke Special, Sleep Thieves, Red Sail, Seamus Fogarty.
International album reviews: Sigur Ros (feature), Alt-J, The Temper Trap, Hot Chip, The Walkmen.
Up and coming events: Carlow Arts Festival preview.