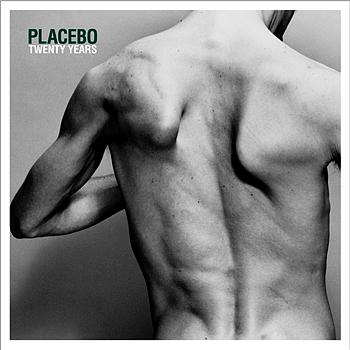 There's something about Placebo – or more specifically, Brian Molko. The Londoners are a wonderfully morose, throbbing headwrecker of a rock act, but it's Molko's lyrics that make them truly exceptional. He pours his soul into taking in heartache, androgyny, desolation and drugs, and tonight's career spanning set does a great job of putting that desolate perfection front and centre.
The Olympia show is the first night of a retrospective tour/ period leading into 2016's 20th anniversary of Placebo, and some fans are so enthused by the prospect that when we wonder past mid afternoon, the queue's already building. The show's nicely preceded by the launch of all seven of Placebo's albums onto streaming services for the first time. It's also the first show with a new drummer, with Steve Forrest departing after seven years to be replaced by Matt Lunn. Not that you'd know; there are no signs of nerves in recent scuzzy openers 'B3′ and 'For What It's Worth'.
If we were expecting dramatic change, that's not what we get, with the setlist near identical to their last outing in Lisbon back in November. While Placebo's power once lay in the heaviness of their pointed, chemical-infused poetry, their nods to more recent genres really freshen up their current dynamic. 'Too Many Friends' stands out as particularly strong, taking on a slight dance-punk-meets-Interpol element in delicately editing their sound. 'Rob The Bank' and 'Begin To The End' are similar offshoots that offer a nice change of pace.
Having attempted to ban mobile phone filming and photography from the Olympia tonight (we even see security have a good go at enforcing the ban), the crowd are utterly absorbed, and inevitably go most wild for the classics. 'Running Up That Hill' has always sounded suitably rock-opera in Placebo's hands, and lights up the encore, while 'Every You, Every Me' is every bit the thumping outside anthem it was all those years ago. 'Post Blue' and 'Infra-Red' make for unlikely set-closers, but do reinforce the key to tonight's success: Placebo build sets, rather than stringing together hits (Meds, in fact, features more heavily tonight than any other album, with the manic beats and brutal pace of 'Space Monkey' in particular emphasising why).
The result is pulsating and dynamic, lent drama by some stunning lighting and a lively stage antics from strutting, silhouetted bassist Stefan Olsdal in particular. 'Nancy Boy' (rarely played in years) and 'Pure Morning' (referenced in the intro, but openly despised by Molko these days) are conspicuous in their absence for old-time fans, but that can only be a minor grumble on a night like this.
If there was a complaint to be levelled at a Placebo live set ten years ago, it was that there was no break from the darkness; that they charged through, struggling to find even a modicum of 'light at the end of the tunnel' amongst what was a memorable but desperate dirge. Today they have those breaks, and – perhaps surprisingly – it's a few of the newer tracks that actually stick in the mind. They're a welcome distraction, but also have the exact contrary effect: bye bye dingy dirge, hello mellow sparkles amongst the cavernous depression. It's hard to associate Molko, Olsdal and co. with lightness and rock-fusion balladry, but it works.
It's easy to feel old watching so many of the bands that sound-tracked teenage 'rebellion' at house parties celebrate their second decades, and many of them have returned for anniversaries less powerful, less committed and with the not so subtle glint of $ signs in their eyes. Not so tonight. With a tight brooding soundscape, pummelling bass and desperate honeyed vocals to die for, Placebo are every bit the band they once were. Silence the backing track and lean on Molko's voice alone and they'd still be pure poetry.
As published on State.ie, February 2015.