The Jezabels are fiercely independent, and proud. When we open our interview with pianist Heather Shannon with a question on their cleverly integrated trio of early EPs, in fact, Heather's very first sentence is "well, we're an independent band". It's understandable: while plenty of bands have gone autonomous later in their careers, few have gathered such a thundering snowball of global hype whilst clinging so firmly to a level of control that reduces the labels they have signed to – separate small-time labels in different parts of Europe and America (PIAS in Ireland's case) – to the role of distributors and regional promoters. Some particularly enthusiastic observers might even point to The Jezabels format as a new model; a way in which future generations of musicians might take firm control of their art, and reduce record labels to merely practical, commission based roles. It turns out, though, that things weren't entirely planned this way.
Australian label interest, for example, came "in between releasing the second EP and into the third, when we went from no interest to heaps." By then, The Jezabels collectively felt "like they couldn't offer us much more than what we'd already built ourselves, fan base wise. I guess it was a timing thing. We might have signed with someone if it had come earlier", but also looked to their influential manager Dave Batty, who's "very strong-minded, he's one of the reasons we were able to stay independent. It can be harder, but we're pretty hands on people, and we don't want a lot of decisions made on our behalf."
The road might have been unusual, but the result already seems a certainty. With debut full-length Prisoner just released (a definite early contender for album of the year), The Jezabels peaked at number two in their native Australia, and despite the relative lack of financial backing, have already temporarily relocated to London and booked themselves full-length tours through Europe and the US. To Heather, London is a "loose base, somewhere to practice between month long tours. We're starting to get used to the touring. I used to be anxious about it, but once you accept that you're going to be tired all the time you get used to it. Jet lag's a problem, but your body just starts to accept when you're awake. It takes a while."
So what caused all this fuss? The three EPs – the last of which appeared on the Aussie scene towards the end of 2010, each ruminates on "heavy romantic themes", and form the building blocks through which the band's genre disparities were merged into something unique. "I come from a classical background", Heather explains, "I was classically trained and I've been playing piano my whole life. Nick was in a metal band. I think we just came back to rehearsal because we were four people who were really into music and we challenged each other. We had lots of bands to show each other. It's been a battle sometimes with stylistic choices and song writing. Hayley really likes light-hearted pop, like Abba, but maybe with a darker side to it. Nick's on the other extreme of the spectrum. I think Sam and I kind of sit in the middle and marry the arrangements together. We get there somehow."
The EP series has allowed the four-piece to keep their un-backed finances in check, too: "when we finished the first EP, we didn't feel ready to do an album; we thought why not do three EPs and group them together. Financially it was really good for us, and it meant we could get material out quicker and build things up slowly. We didn't want to spend a lot of time and money on an album that might not be important."
When it came to producing the album, those disparate influences were emphasized still further, with Lachlan Mitchell – a death metal performer – hired to produce. "All we did for four months was work on the album", Heather tells us. "It was all written together so we think that gives it a natural feel. Our producer's in a black metal band that dresses up in heavy chains and stuff like that. I think part of that definitely come out in our song writing and in the production. We've got these tribute pop-songs, and then tracks like 'Nobody Nowhere', which is kind of the other extreme. It was good to have a full length album to explore those things, as on the EPs, things wouldn't have held together with such extremes over short periods of time."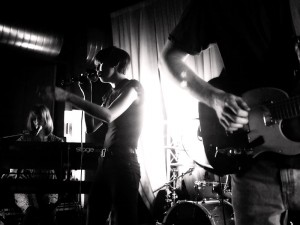 The entire process hasn't been without frustrations. Heather admits that the random nature of the group's musical backgrounds "could have gone either way at times", for example. The staggered release dates (the album's been out for nearly six months in Australia) have been odd, too: "we wanted to release it earlier outside Australia, but it turned out to be easier to marry the whole thing up in March. Being signed with a whole load of different labels around the world eventually meant a little compromising."
Still, to have such global exposure off your own back pre-album is astounding. Heather gives huge career credit to their growing Internet fan base: "You might find that you have a lot of fans somewhere because of Facebook or something, and go over there and sell out a show, somewhere you've never been before. That's incredible. There are bands in Australia that have huge careers there and they've survived, but with the internet now, if you can take things elsewhere you have a far better chance. Why not?"
For a band that technically only have an Australian album release for another week yet, the greatest highs seem to be yet to come: "We were really excited to get four stars in the American Rolling Stone, which felt like a really big deal to us. We did a tour in Australia last October and sold about 5000 tickets in each major city. That felt like a turning point, too. That was amazing." The immediate aims following the album release are extremely simple, though. For band whose life is one constant battle against jet lag and tour fatigue due to flight to Australia and back, once the London rehearsals are over, immediate aims are merely "to get through these tours and then play a few festivals." We can't help feeling The Jezabels might achieve a whole lot more than that.
As published on State.ie, February 2012.